If you are one of those people who does not settle for any boring stationery item and who needs not only functionality in their notebooks and organizers but also some harmony in their workspace, you should shop for stationery from the Iconic brand . In Entropía, online stationery, you will find a wide variety of Iconic brand products to include among your organizational elements.
Buy Iconic stationery
Take a look at assortment of Iconic stationery items that you can buy online at Entropía at the best prices on the market and choose the one that best suits your needs. Our goal is to always offer top quality products and, with any of those that belong to the Iconic stationery brand, we assure you that we are fulfilling our mission. In our online sales catalog you will see that you have a wide collection of this leading brand in the sector and that It is characterized by perfectly fusing aesthetics and harmony . Iconic brand stationery products end up becoming true icons for the user.
So, don't think twice, get your Iconic brand products by buying them online and receive them comfortably at home in 24/48 hours.
Why buy Iconic stationery?
Because you are already tired of using the same old diaries, pens or notebooks, which do not inspire you at all and which you have ended up hating. The Iconic stationery brand stands out for manufacturing refined, original and whimsical stationery items . It is a design and lifestyle brand that was born in 2004 in the Asian country of South Korea.
Iconic's notebooks, diaries and any other stationery item pursue a common goal: to be part of your day-to-day organization, providing beauty and functionality while becoming essential elements of your daily life. They are waiting for you!
Where to buy Iconic stationery?
In Entropía, online stationery store, you will find for sale the best Iconic stationery items that will not be easy to find in other stores . We have an extensive catalog in which we assure you that it will be difficult for you to decide on any of the cute stationery products that our friends at Iconic have. Tools agendas, beautiful Photo albums elegant and functional designs, notepads of animals, pens Iconic, mechanical pencils, weekly and monthly planners Iconic and… much more! The list is almost endless, but we guarantee that Iconic stationery products are not one of our favorites by chance. In addition to being very practical, the models have super beautiful designs as well as sophisticated.
Sort by
Featured

Best selling

Alphabetically, A-Z

Alphabetically, Z-A

Price, low to high

Price, high to low

Date, old to new

Date, new to old
La marca coreana Iconic es "icónica" por algo. Y es que destaca la armonía de los colores, la elegancia y el minimalismo pero sin olvidarse de la funcionalidad.
Echa un vistazo al surtido de artículos de papelería Iconic que podrás comprar online en Entropía a los mejores precios del mercado y elige el que mejor se adapte a tus necesidades. Nuestro objetivo es ofrecer siempre productos de máxima calidad y, con cualquiera de los que pertenecen a la marca de papelería Iconic, te aseguramos estar cumpliendo con nuestro cometido.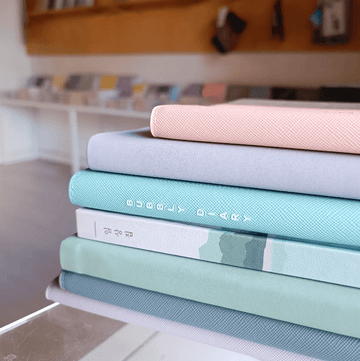 Why buy Iconic stationery?
Porque ya estás cansadx de utilizar las mismas agendas, bolígrafos o libretas de siempre, que no te inspiran nada y que has acabado aborreciendo. La marca de papelería Iconic destaca por fabricar artículos de papelería refinados, originales y caprichosos. Se trata de una marca de diseño y lifestyle que nació en 2004 en el país asiático de Corea del Sur. 
Los cuadernos, las agendas y cualquier otro elemento de papelería de Iconic persiguen un objetivo común: formar parte de la organización de tu día a día aportando belleza y funcionalidad a la vez que se convierten en elementos indispensables de tu vida diaria. ¡Te están esperando!
Where to buy Iconic stationery?
En Entropía, tienda de papelería online, encontrarása la venta los mejores artículos de papelería Iconic que no te será fácil encontrar en otras tiendas. Tenemos un catálogo extenso en el que te aseguramos que te costará decidirte por cualquiera de los productos de papelería tan cuquis que tienen nuestros amigos de Iconic. Las "ICONICAS" agendas,preciosos álbumes de fotos de diseños elegantes y funcionales, blocs de notas de animalitos ,bolígrafos Iconic, portaminas, planificadores semanales y mensuales Iconic y…¡mucho más! La lista es casi interminable, pero te garantizamos que los productos de papelería Iconic no son de nuestros favoritos por casualidad. Además de ser muy prácticos, los modelos cuentan con diseños súper bonitos a la par que sofisticados.
When do the ICONIC 2024 annual planners arrive?
Los nuevos modelos de agendas anuales ICONIC 2024 empiezan a llegar a mediados de septiembre.
Así que no te pienses mucho en hacerte con la tuya y ves a por tu favorita porque se agotan pronto